Become a Student
"PFF changed everything. It gave me stability and showed me that there were others with a similar background to mine who were changing their futures. My PFF peers became my friends. I started making goals for myself, and my internship with the Markel Corporation gave me the opportunity to see what my future might be."
Sean Smith, alumnus
Become a PFF Student and Take a Big Step Forward for Your Future
Our students feel empowered to realize their academic, professional, and personal goals. Through our program, students learn new skills, develop crucial contacts, access valuable opportunities, and accomplish more than they realized was possible. In addition, the PFF experience strengthens their resolve to contribute to their community. Our resources and programs help students excel in every aspect of their studies, careers, and lives.
Are You Interested in Becoming a PFF Student?
If you're a high school freshman at one of our partner schools and meet our academic requirements, apply to our program. Keep in mind, this requires commitment and hard work: PFF is a four-year program before you enter college, and you are required to participate for the full four years to ensure you maximize the program's value to you, your family, and your community. Beyond those four years, you also are required to participate in our college success program designed to help you transition to college and then excel through graduation.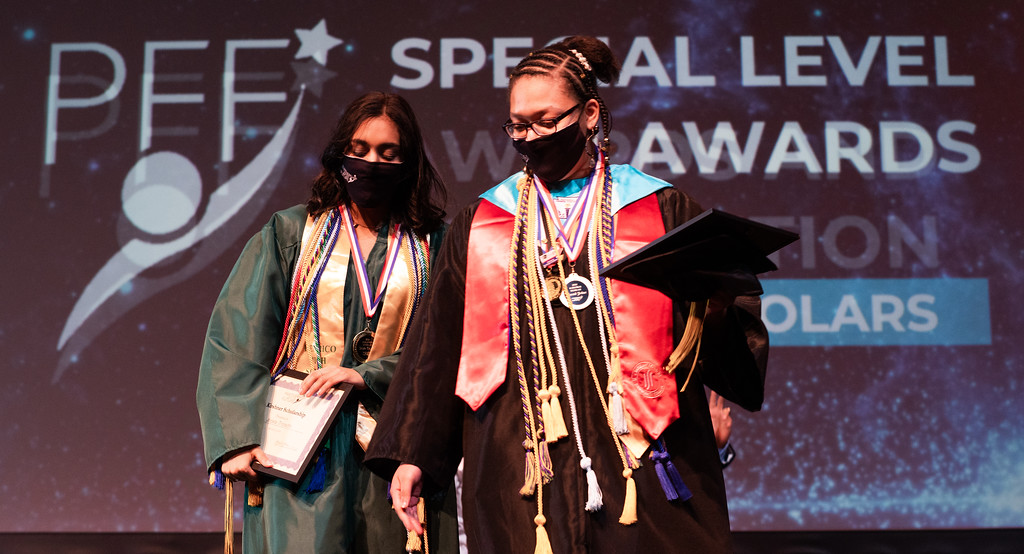 Top 5 Reasons to Become a PFF Student
Paid internships
Work full-time for a major Richmond business for three summers and receive valuable on-the-job training. Your salary can increase $0.50 an hour in your second summer and another $0.50 per hour for your third summer, based on your performance. And you'll have free transportation to and from your job.
We'll help you pay for college
We'll match the money you save toward college up to $2,000. And every year, we award up to three scholarships to our top students. We'll also help you find and apply for additional scholarships.
Improve your profile for colleges
We'll help you prepare for your SATs and fill out your college application.
Get savvy
We will help you explore a range of college options and prepare you for the particular rigors of higher education. You'll attend cultural events, hear from inspiring leaders, and be exposed to a variety of workplaces and careers.
Make contacts
You'll meet people who want to help you. They will provide you with expert advice and valuable recommendations. You also will meet peers from other schools who will become essential sources of insight, drive, and inspiration.
---
Interested in Applying?

If you meet our application requirements, we'd love to hear from you.
Applications are released every February.

Applications are released this year on March 1, 2022.

Applications are due this year on March 24, 2022.
Application requirements:

Students must be a freshman (9th grade) at one of PFF's partner high schools.

3.0 GPA minimum.

Demonstrate a strong academic background including honor, scholar, AP and/or IB classes.
---
If you have any questions, please contact Reshaud Rich, Sr. Director of Programs, via email at Reshaud.Rich@partnershipforthefuture.org or phone at 804-371-1408